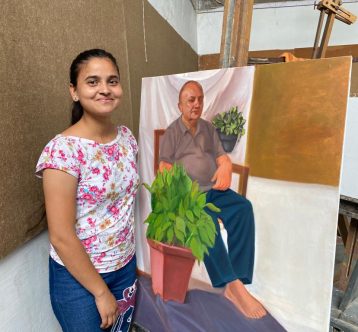 I believe that my family is a rare example of those who are determined to educate their daughters despite hardships. My family believes that it is education that will open the pathway to a better life for their children. I am the youngest of all and have always been adored and mentored by my elder sisters. But my father didn't want our financial instability to hamper my studies. So, in 2014, he enrolled me in one of Akshar school's remedial classes. I was overwhelmed with happiness as I had teachers here to guide me. They found out about my art enthusiasm and mentored me. And this could be turned into my passion with the help of my stable family, whose abundant emotional support and encouragement enabled me to pursue my passion. 
In 2019, I graduated high school and immediately joined the Government College of Arts in Chandigarh to proceed further toward my dream. Since then, I have worked hard to improve my artistic abilities. I love it when my artwork is displayed at the Annual Art Exhibition, and my classmates and professors admire it.
I also volunteer my time at Akshar School to mentor our young brothers and sisters. Additionally, I work as a freelancer at Pransanchetas Foundation to learn new skills and tutor children in my community. To further get closer to my dreams, I wish to enroll in a Master's Program at an Art College. 
With Akshar's support and enthusiasm, more girls like me will shine brighter.