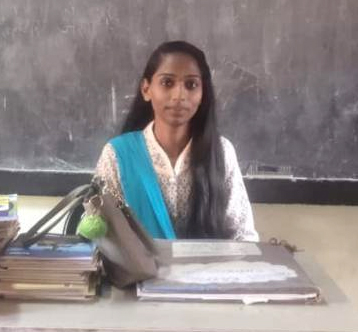 I am Gudiya and I come from a family where my father is the sole breadwinner and works as a day labourer in Chandigarh's Kaimbwala to support the family. This made it difficult for me to continue studying. But I believe that this adversity only made me wiser. I had always kept my focus on being a sincere girl with big aspirations. I got enrolled with Akshar in 2016 and started taking remedial education in 9th grade. I always had a unique appreciation for my teachers and was inspired by the way they imparted knowledge selflessly. This motivated me of becoming a teacher on day.
Backed up by my grit and determination, I passed the class 12th board examinations with 64% in 2019. With my passion for teaching, I got enrolled in the Nursery Teacher Training Course in Chandigarh and after successfully completing my diploma, I started working as an intern at Government Modern Senior Secondary School in Chandigarh.
When you are inspired by something, you enjoy doing it and so do I. I love learning new teaching techniques at my internship and even work extra hours to learn from senior teachers. In a short span, I think I have made my way to the children's hearts.
I am keen on helping children receive knowledge. For instance, there was a Tamilian child who was neglected due to the language barrier. So, I took up teaching him, and with some persistence, love, and care that child started to show improvement in learning. I count this as a significant milestone in my teaching career.
Today, I am a teacher at Government Model Secondary School Kaimbwala where I was once a student myself. I am also pursuing my Bachelor's.  After graduating, I hope to study in a reputable B. Ed college, which will lead me closer to my dream of becoming a teacher. Apart from pursuing a degree, I am also tutoring students to help my family. And it feels great to see that my parents are delighted to see me grow in life and fulfill my dreams.
I believe that Akshar school is an equal participant in this victory. It has supported children like me to reach our full potential.