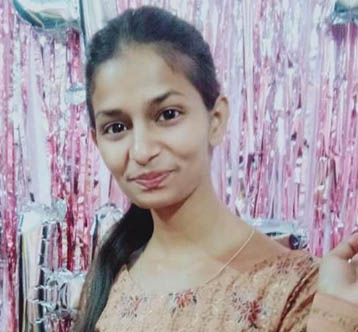 I come from a family of seven members with five siblings who are all enrolled at Akshar School. I am the eldest of all siblings and am currently in college while my four siblings are completing their school education. My father does odd jobs to serve our family.
I had to face and fight my fair share of difficulties to get my right to education, as my father has not been very supportive of my education. For a brief period, I had to drop out of school and work as domestic help. It was after weeks of home visits by Akshar teachers that I resumed my education.
But little did I know that my life would take a turn. When I was in class 10, my family insisted that I drop out of school and get married. When my teacher, Mr. Shambhu heard of it, he immediately took the initiative to speak to my parents. My father was hesitant to send me to school and said that it was hopeless teaching girls and that instead, I should work for a few years and get married.
Akshar School constantly motivated me and after months of follow-up with my family, I found a new hope. I fought for my right to education and with much hard work I completed my schooling.
I was highly motivated to pursue Fine Arts as I knew I had the required talent. I started preparing for the entrance exam. Moni, a senior of mine at Akshar School, mentored me continuously for two months. Our determination and hard work paid off when I got accepted into the prestigious Government College of Art.
The Ozone Foundation supported my dream and gave me the opportunity to excel. Despite regular taunts from my father and brother, I have worked hard to keep up with my studies. This has made me firm that education can transform girls and make them realize their true potential.