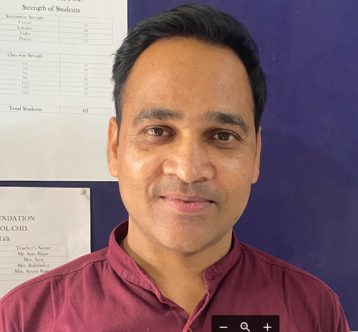 "Their Spark Motivates Me – Shambhu Sir"
I feel free while working with the Ozone foundation, Akshar School. The students in the school are from humble backgrounds. And they are filled with different potentials. This motivates me to work.
After working with children for a while, I found them to be very approachable and candid in expressing their ideas at certain times. They are very good at their conduct and are keen to learn new things.
When managing children, I always make sure that they feel free to talk to me. I make myself approachable so that they can share their difficulties when they come across any. At the same time, I, too, am frank with them with a sense of humor.
To make the children feel at home or eliminate any feeling of them being less fortunate, I try to be very gentle and friendly with them. I crack jokes so that they do not feel shy before talking to me. I also tell them some inspirational stories from time to time, take a manners class, and help them learn the value of money and hard work.
I have been working for Akshar School Chandigarh since it's inception. I have collected many success stories, but here I will share one of them, which is very close to me. There is a girl named Aarti. Her parents and brothers were against her studies. She has been facing this issue since class 10th, and she was worried about her further studies. But I motivated her and told her about her right to study. So she stayed strong in her aim. And today, after so many difficulties, she has convinced her family and is now pursuing Fine Arts at Government College of Arts Chandigarh. I feel happy that I guided and motivated her. She is such a talented girl and is doing so well today.