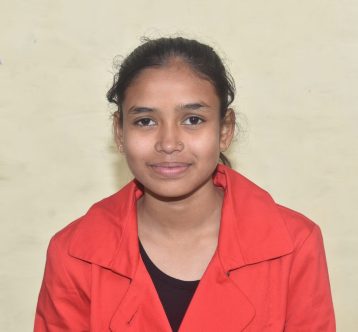 Rozy comes from a small family of four members who migrated from Uttar Pradesh in search of better jobs and opportunities. While her father works as a security guard, her mother is a homemaker.
Rozy has been a shy girl from the beginning and often used to feel left out. Despite that, she is a very talented and smart student. When she got enrolled in Akshar school, she was in the 9th grade and is currently in the 10th grade. She gained extreme confidence when she started attending our theatre classes. Today, Rozy actively participates in every activity and event conducted at the school.
Her class teacher, Mrs. Anu Thakur, says that Rozy is a very bright child and has the potential to do great things in life. Within a year, she has improved a lot, be it in academics, where she scores above-average marks, or in other activities. Rozy, too, is persistent in learning and improving. She has overcome her shyness, and she never hesitates to ask whenever she finds any topic difficult. That is an excellent quality in a student who is curious and determined to learn. Rozy says that she realized her potential, talent, and her capabilities after joining Akshar school. And that, in itself, is the most outstanding testimonial and achievement for us.
When I was enrolled in Akshar School in 2017, my mother was supportive, but my father was not. I still sometimes feel pressured by my father and think about dropping out of school to start earning. This has affected my focus significantly. It has been challenging to keep on track, but I try to stay motivated
I aim to pursue Computer Training for my economic independence. Although I dream of pursuing BCA, family & finances have got me confused about whether I should just get training in computers and start working. I hope I am able to the right decision for me!